---
Mini Barn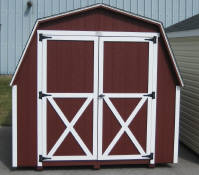 Mini Barn
Mini Barn outdoor sheds are a practical solution to the storage problem. No bells or whistles, just plain space.
The Mini Barn may be little in name, but this storage shed encompasses a surprisingly large space. These little fellows get the job done for a very reasonable price.
---
The Mini Barn includes a double door and one window.
---
Below are some popular shed sizes with prices. Gravel Shed foundation is not included. Purchase Shed and Foundation together in our Top-to-Bottom Package and receive an extended warranty.
Come visit our shed manufacturing facility. We'll help you configure your "perfect-fit" storage shed.
Painted Buildings
Size .... Price .. Payment
8x12 ... $1860 ..... $ 91
10x10 ... $2050 ..... $101
10x12 ... $2145 ..... $105
10x16 ... $2525 ..... $124
Other shed sizes are available.
Come Visit Us! It's worth the trip to see what you're pricing! And while you are here check out the quality of our workmanship.